Convention 2018 – Pottery Demonstrations

at Minnesota State College Southeast

Thursday, July 12
TBD
Friday, July 13
TBD
It is a tradition at the RWCS July Convention to have a Potter demonstrate at the Convention. Take time out of your convention experience to see our resident potter Richard Spiller.
Spiller has been demonstrating at the RWCS Convention since 2012. From face jugs to crocks, he has a wealth of knowledge, experience, and talent to share with convention attendees. 

---
About the Potter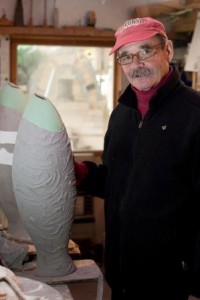 Richard Spiller
A resident of rural Wisconsin, Spiller was educated at Western Michigan University and the University of Wisconsin – Madison. An Emeritus Professor of Art at Eastern Carolina University, Spiller has been a practicing potter and ceramic artist for nearly 50 years. His expertise included kiln building with firing experience from corn cob raku to Tozan Noboigama and firing to cone 10 reduction.