The Annual Convention is held at the Minnesota State College Southeast in Red Wing MN.
Minnesota State College Southeast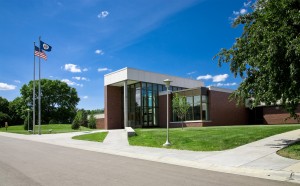 308 Pioneer Rd
Red Wing MN 55066

Directions to College
On Highway 58 (going South from Red Wing), turn West on Pioneer Rd at the stop lights. Turn right into parking lot.
---
Intersection of Pioneer Rd and Twin Bluff is Close for Construction.
Members coming to the College from Pottery Place do not use Pioneer Rd. The intersection by Twin Bluff Middle School, of Pioneer Road and Twin Bluff, is closed for installation of a new intersection. Visit the
City of Red Wing page
to learn more.
---
---
Directions Armory – Auction and Show & Sale location
The Red Wing National Guard Armory is located just south of Red Wing on Highway 61. From Red Wing, head south on Highway 61. Turn right on the frontage road by the Days Inn Hotel. Turn right again on E 7th Street. The Armory will be on your left. Parking is available in the Armory lot, on the city streets.  The RWCS will be working with the City of Red Wing on other parking opportunities.
---
ARMORY PARKING SHUTTLE
Thursday, July 6 – Member Auction
3:00 pm – UNTIL END OF AUCTION
Saturday, July 8 – Show & Sale
7:00 am – 3:00 pm
**** Sellers are encouraged to park in the shuttle lot and not in the Armory lot.
Saturday, July 8 – Show & Sale

---
Directions to Red Wing
Directions to Red Wing, MN, simply follow the convenient directions below. If you need more specific help, please call the Red Wing Visitors and Convention Bureau by calling (651) 385-5934.
Directions below or
Click here
to use the Red Wing Visitor and Convention Bureau map.
From St. Paul (51 miles):
U.S. Hwy 52 South to Hampton, Minnesota
MN Hwy 50 East to U.S.Hwy 61 South
From Minneapolis (61 miles):
Interstate 94 East to St. Paul
U.S. Hwy 52 South to Hampton, Minnesota
MN Hwy 50 East to U.S. Hwy 61 South
From La Crosse, WI:
Follow Minnesota Great River Road North (U.S. Hwy 61)
From Rochester, MN (44 miles):
U.S. Hwy 52 North to Zumbrota
MN Hwy 58 North to Red Wing
From Chicago (364 miles):
Interstate 90 West to La Crosse, WI
U.S. Hwy 61 North to Red Wing (Minnesota Great River Road)
Save