RWCS Newsletter Classifieds!
BOOKMARK THIS PAGE FOR ONLINE ONLY AUCTION ADS ALL YEAR LONG!
MidWinter 2018

Feb. 23-25, 2018 in Des Moines, IA
Membership is only $35 a year and includes full-color newsletters
Advertise with us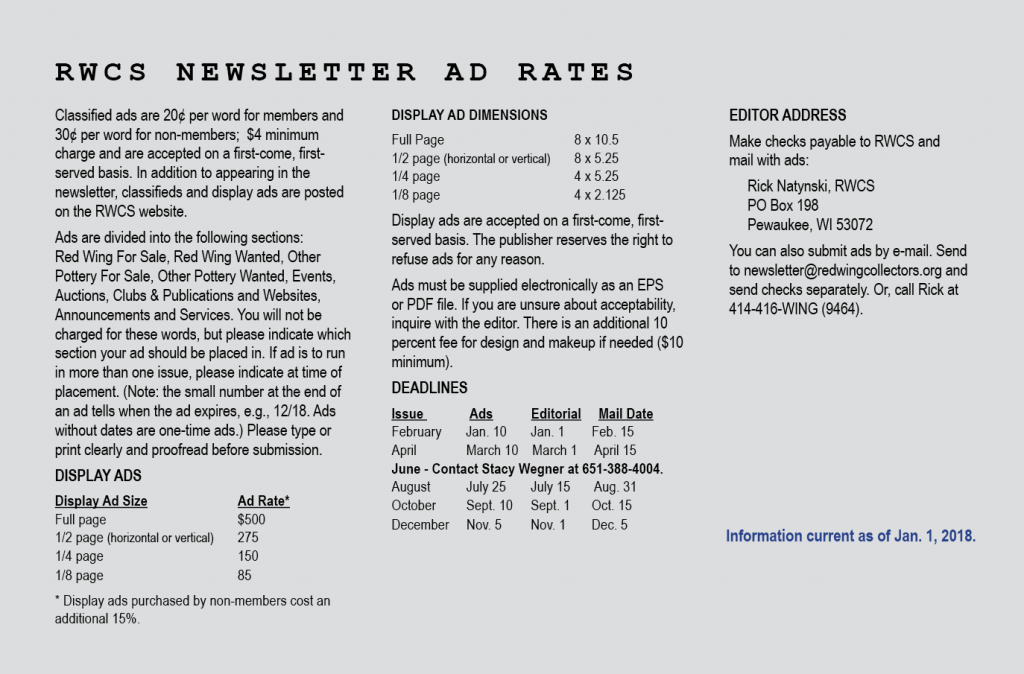 AUCTION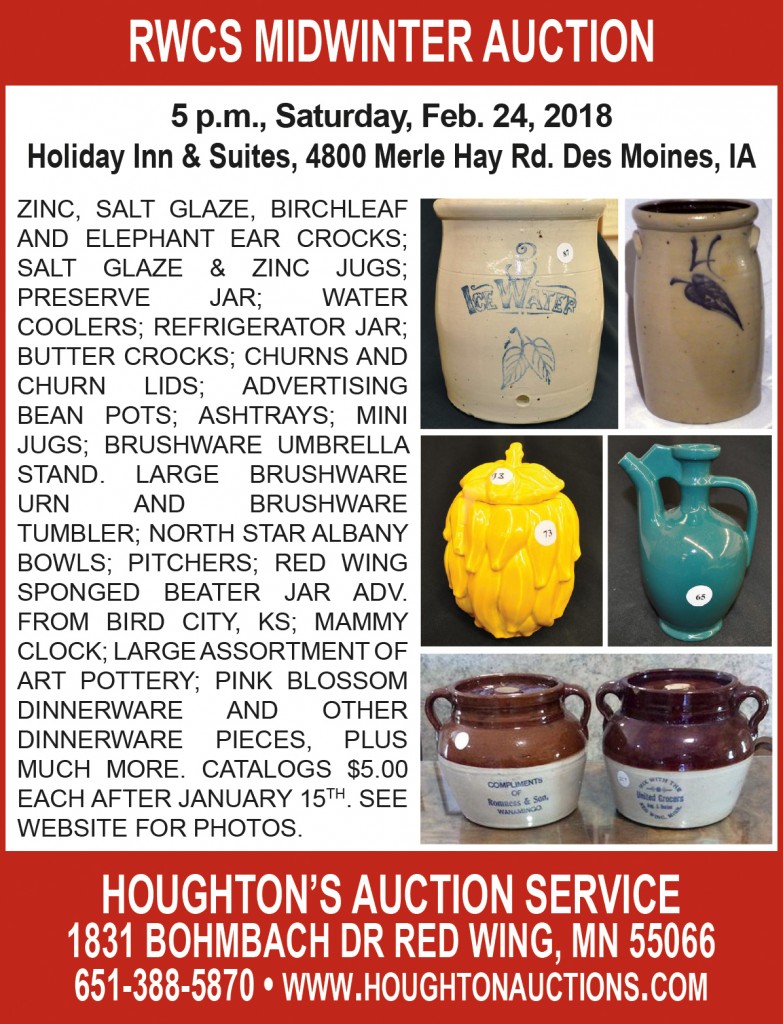 Advertise your upcoming auction here.
---
---
FREE TO PICK UP: Almost all RWCS Newsletters from 1986 to 2017! Bloomington, MN 952-830-9657.
FOR SALE: Selling my collection of Red Wing Trivets – some rare. Call Bob at 303-771-0480.
FOR SALE: 2 gal brown top "Deer Park Co. St. Paul" adv jug, $260; 1 gal "Morris Fink St. Paul" adv jug, $340; 1 gal "Banner Liquor Co. Winona, MN" ad jug, $300; 1 gal "Sandell Bros. St Paul" adv jug, $300; Hamm's Bear Bank, $800; Hamm's salt & pepper shakers, $200; Cherryband Lake Benton, MN adv. pitcher, $280; 20 lb. butter crock w/wing, $900; 1 gal large wing crock, $600; 1 gal small wing crock, $600; 8 gal butter churn w/4" wing, $2000; Red & Blue Sponge Umbrella Stand, $2500; 3 gal wing beehive jug, $425; 4 gal wing beehive jug, $500; 5 gal wing beehive jug, $550; 2 gal wing brown top ball lock jar, $800; ½ gal wing brown top shoulder jug, $250; 1 gal wing brown top shoulder jug, $200; 2 gal wing brown top shoulder jug, $725. Cal Sid at 701-749-2586. 2/18
RED WING WANTED

FOR SALE: RWCS Commemoratives 1989-2016 (includes all boxes); 4 salt glaze crocks with lids, including 20 gallon salt glaze front-stamped butterfly crock. Many other rare crocks, large variety of Birchleaf crocks, 5 wing churns, 3 Birchleaf churns, Safety valve jars and RW canoe. Located near Hannibal, MO. Best offers considered! Call Billie at 573-231-6727.
FOR SALE: RW Orange Chromoline: #682 vase (mint), $450;  #673 vase (factory rim flaw), $275;  #674 vase (small base chip), $250;  #676 footed bowl (small outer rim chip), $250;  #671 candy dish (faint interior hairline on lid), $275. Can deliver to MidWinter. Contact Rick at 414-416-WING or newsletter@redwingcollectors.org.
---
RED WING WANTED
WANTED: 1986 RWCS Convention SPECIAL COMMEMORATIVE – Acid Proof Pitcher with blue sponging. E-mail grandmagretah@yahoo.com or call or text Greta at 847-372-1000.
WANTED: Bob White: 4 oz. juice tumblers and supper sets; Delta Blue: coffee mugs & beverage mugs; Tampico: tall beverage mugs, water cooler base & lid; Capistrano: 2 dish tidbit tray; Roundup: 2 mugs; Reed: white & ivory tumblers: Water Cooler bar petal lids, winged 2, 8 & 10 gal; Wing crocks: 40, 50 & 60 gal with or without lids. Contact Herb at hdaniels000@gmail.com or 417-876-7104. 12/18
WANTED: Red Wing Brewing 3-4 color glass, any etched glasses, tokens, signs, ball tap knobs, foam scrapers, letterheads, etc. from Remmler, Midwest, Cokins, or Red Wing Brewing. Contact 651-564-0200 or minnbeer@gmail.com. 12/17
WANTED: 155 vases, white/ivory, 9" & 12" tall. E-mail ralphryan@charter.net.
WANTED: Green Iris Pitcher, any size. Also need 6 inch size Iris Pitcher in Burgundy and yellow. Contact Lee at Lee.elder47@gmail.com or 785-738-8363.
WANTED: Still, and always looking for jugs and crocks with Montana advertising. Working hard to improve my collection. Contact Aaron at adbliss@3riversdbs.net or call (406) 788-7851. 12/18
WANTED: Will pay strong price for Red Wing bean pot with Westby, Wis. advertising. Contact Rich at repatlargeeast@redwingcollectors.org or 608-617-7424.
WANTED: Red Wing Daisy Chain dinner plates and salad/cereal bowls serving pieces. Contact Nancy at nancy194805@gmail.com or 785-691-7213.
WANTED: Mini and salesman sample flower pots in any colors. Contact cobe142@cox.net or 402-598-1315.
WANTED: Looking for a Willow Wind pattern Spoon Rest – the last one I need to complete my collection of Red Wing spoon rests! Please call Margaret at 651-388-9729.
WANTED: NORTH DAKOTA! Looking for jugs, crocks, butter crocks and churns with advertising. Will pay top dollar for the right pieces. Contact 701-270-0242 or beehive@polarcomm.com.
WANTED: #687 Blue/Green Chromoline vase in mint condition and Red Wing advertising bean pots from Shamokin, Pennsylvania and Frazer, Montana. Contact Rick at newsletter@redwingcollectors.org or 414-416-WING.
---
EVENTS